Description
What is Instagram Scraper & Sender?
The Instagram Scraper & Sender is a  software that can scrape
Instagram users' info
such as username, email, phone number & many other details on their bio. This software also
can send bulk messages to Instagram users
with automation. All you need to do is upload the CSV file that contains the username of the account's that you wanted to scrape or send bulk messages. And if you are worried about where to get the usernames, we got you covered. This software contains a feature where, you can enter an Instagram user's, usernames, and the
Instagram scraper software will extract the username of all of his/her followers or following.
How does this Instagram Scraper & Sender works?
This tool is very simple. There is only 2 step. Step 1 is to
extract the username's of some ones followers or following to a csv file
. You can just enter a username & tick the followers or following. With this feature, you can have the followers/following list of that Instagram user's. Step 2 is select the extracted username file and perform the extract user details or send message function. Before you do that, make sure to
created a backup file of extracted usernames in step 1
. This is because
in this step the software will delete the username of the processed user. This is done because, for any reason you need to start again, you can select the usernames file that used before and continue from where you left. This is very useful, when you are extracting huge accounts.
Extract Username
On the first part you can extract the username of any Instagram user's followers or following to a csv or excel file. This is done to track the user's that are being used in extraction and sending messages.
This mean that you can continue on where you left off, even if you get blocked by Instagram.
Extract User Details
In this program you have option to tick the information that you wanted to scrape from Instagram. This Instagram scraper can extract the following details from Instagram user's, If that information is presented on their bio:
Id
Username
Full Name
Email
Phone Number
Website
Bio
Is Verified
Profile Pic URL
Media Count
Follower's Count
Following Count
City Name
Zip Code
Is a Business Account
With this you can also set to scrape that user's information, only if a certain field is present.
Send Bulk Messages
With Instagram Bulk SMS sender tool in the software, You can upload the usernames, that you want to send SMS or DM's. After that you can enter the text that you wanted to send. This text can spin the text to send the different text's or wording to different user.
Will I get banned by Instagram?
The honest answer is yes,
you might get banned by Instagram
. But if you are using this software carefully,
the chances of getting banned is very low.
In this software, you have option to set delays and use spin text features and some other tactics like performing a random action once in a while.
What if I got banned by Instagram?
The solution is simple. We have always recommend to use a
dummy account with this software
. To solve this all you need to do is
create a new dummy Instagram account and enter those account credential in the setting section of program.
After that restart the software and everything should work fine just like before.
Do I need to enter my credentials?
We do not need your credentials specifically. Create a dummy account and enter that in the setting section of the program. The credentials will be stored locally on your PC. But to scrape its better to use a old account than a fresh new account, because Instagram tends to block new accounts sooner, if there was too many actions in a short period of time, just after creating a new account. For Instagram usernames extracting and sending bulk messages to Instagram users, you are not required to enter credentials in the software. The chrome browser will open and all you need to do is enter the credentials in the browser. But you need to be quick as the browser will give you about 10 seconds to enter your credential and login. Anyways, Its always recommended to create a dummy Instagram account and enter the credential in the setting section of the software.
What if the software does not work?
Its very simple. If it doesn't work, send a message to our
messenger
or
Instagram
. We will help you using a remote software such as TeamViewer or anydesk.
If we are unable to solve your problem in 48 hours, we will give you a full refund.
Btw we heard our customer support is great :p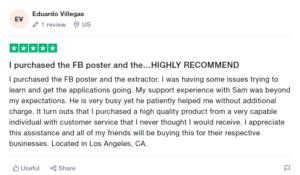 Can I extract only emails from Instagram?
Yes of course, All you need to do is simply tick the fields you wanted to extract and the software will extract only those fields. If you are looking to extract only emails from small accounts that have less than 5K followers, we recommend this
small tool we created for small accounts email scraping
.
Having more questions?
We are here to answer your queries. Send us an
email
or
message
to get your doubts cleared.